Book
Epilogue: The Demise of Quarry Hill Flats | Peter Mitchell
Regular price
£55.00
Sometimes buildings resonate long after they have gone. Not just due to their size, but because of what they meant - to the people who lived there, to the city that housed them. Peter Mitchell had an eye for these buildings, his lens capturing something vital that would, one day, be lost to us.
The demolition of Quarry Hill Flats (1938 - 1978) remains the work he is most known for. By the mid-seventies, the building was in terminal health and being slowly put down. Mitchell spent time wandering the site with his camera as, bit by bit, piece by piece, the flats, which had once housed 3000 people, came down. 
Epilogue, published by RRB Photobooks, acts as a sequel to his 1990 publication Memento Mori, which documented the dramatic impact of the Quarry Hill redevelopment project in Leeds. 
This book contains over 40 new images, documenting the abandonment and subsequent demolition of the site, adding a poignant final chapter to the 1990 publication and its later facsimile edition. Largely eschewing the archive material seen in Memento Mori, Epilogue takes a more narrative approach to tell this final part of the story. Mitchell is again the lone wanderer in an increasingly unpopulated and other-worldly landscape.
SIZE: 287 X 350mm
PAGES: 100
PUBLISHER: RRB (First Editiob) 
BINDING: Hardcover
Share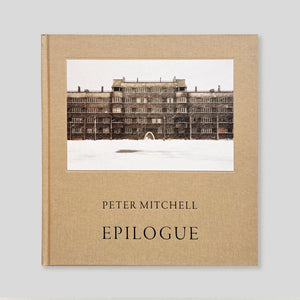 ---