Book
Punk Art History: Artworks from the European No Future Generation | Marie Arleth Skov
Regular price
£29.95
The punk movement of the 1970s to early 1980s is examined as an art movement through archive research, interviews, and art historical analysis. It is about pop, pain, poetry, presence, and about a 'no future' generation refusing to be the next art world avant-garde, instead choosing to be the 'rear-guard'.
Skov draws on personal interviews with punk art protagonists from London, New York, Amsterdam, Copenhagen, and Berlin, among others the members Die Toedliche Doris (The Deadly Doris), members of Vaerkstedet Vaerst (The Workshop Called Worst), Nina Sten-Knudsen, Marc Miller, Diana Ozon, Hugo Kaagman, as well as email correspondence with Jon Savage, Anna Banana, and Genesis Breyer P-Orridge.
A large portion of the discussed materials stem from the protagonists' private archives, while some very public-scandalous and spectacular-events are discussed, too. The examined materials cover almost all media: paintings, drawings, bricolages, collages, booklets, posters, zines, installations, sculptures, Super 8 films, documentation of performances and happenings, body art, street art.
What emerges is how crucial the concept of history was in punk at that point in time. The punk movement's rejection of the tale of progress and prosperity, as it was being propagated on both sides of the iron curtain, evidently manifested itself in punk visual art too. Central to the book is the thesis that punks placed themselves as the rear-guards, not the avant-gardes. 
Although aimed at students and scholars of art, design, music and performance history, the subject as well as the author's accessible, occasionally playful style will no doubt draw readers with an interest in punk, music, and urban histories.
Size: 170 x 244mm
Pages: 308
Publisher: Intellect
Share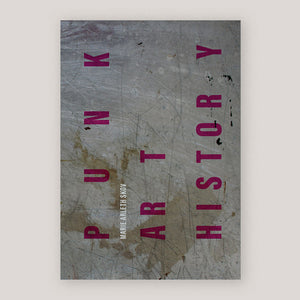 ---