Book
Whatever Happened to the C86 Kids?| Nige Tassell
Regular price
£10.99
In 1986, the NME released a cassette that would shape music for years to come. A collection of twenty-two independently signed guitar-based bands, C86 was the sound and ethos that defined a generation. It was also arguably the point at which 'indie' was born. But what happened next to all those musical dreamers? Some of the bands, like Primal Scream, went on to achieve global stardom; others, such as Half Man Half Biscuit and The Wedding Present, cultivated lifelong fanbases that still sustain their careers today. Then there were the rest - the ones who endured general indifference from the record-buying public and ultimately returned to civvy street.

Now, thirty-five years on, journalist Nige Tassell tracks down the class of C86, unearthing members of all twenty-two bands and sharing the stories, both tragic and uplifting, of these long-lost musicians. Told with warmth, compassion and humour, this is a very human account of ambition, hope, varying degrees of talent and what happens after you give up on music - or, more accurately, after music gives up on you. It's a world populated by bike-shop owners, dance-music producers, record-store proprietors, ornithologists, driving instructors, solicitors, caricaturists and possibly even an Olympic sailor. And let's not forget the musician-turned-actor gainfully employed as Jeremy Irons' body double...
More than simply the tale of the tape, Whatever Happened to the C86 Kids? is an exploration of C86's wide-reaching and often surprising legacy.
Size: 129 x 198mm

Pages: 352
Publisher: Nine eight Books
Size: 162 x 240mm

Pages: 288
Publisher: Nine eight Books
Share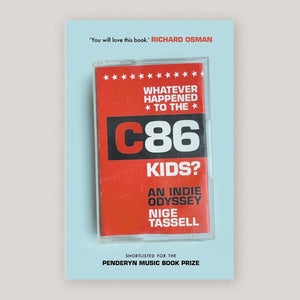 ---