Magazine
IdN 28/04 | Identity and Business Card design
Regular price
£19.95
Inside: 
The new IdN makes an immediate impression with an issue stuffed fill of identity and business cards. Inside, over 40 creatives from across the globe showcase the very latest ideas and trends in the design of these mini masterpieces - creating objects that are both practical and beautiful. Essential stuff for those interested in logo design, print treatments and the ability to get your point across within in an 85 X 55mm canvas.
Contributors:
Audrey Chandra | badcass (Philippe Gully) | Both | Carlos Bauer | Chun-Ta Chu | Damla Sezikli | Deep Fried Creative | Design Etiquette (Mariana Pacheco) | Elegante Press | Elizaveta Isaeva | Erwin Bindeman | Fishsaut | Frames Design Ltd. | Irene Salvadeo | Julia Petrova | Kaori Drome Graphic Design | Keita Asaoka | Leonor Gaspar | Lucia Ochoa | Lukas Diemling | Marina Cardoso | Marta Brinchi Giusti | Marta Veludo Studio | Meritxell Serisier/Very Good | Michele Verze | Miriam Skalli | Monish Khara | Muhammad Junaid Ur Rehman Tahir | NOSIGNER | Patrick Sanders | Roots (Jonathan Yuen) | Seegno | Studio Born | Studio Laura Voet | The 1984 | The Hood (Can Guven) | VVORKROOM | Wang Bo-Wei/Siang Sinn Design | WarmThanks Design (Yoshie Tokudome) | Yen-Chieh Chen | Yerevan Dilanchian | Yi-Hsuan Li/StudioPros Design
Expect:

Varying paper stocks, spot varnishes, and matt lamination, IdN is a beautiful design magazine from Hong Kong that looks and feels as good as it reads. 
Size: 160 x 230mm
Pages: 160 (plus 8 cover pages)
Share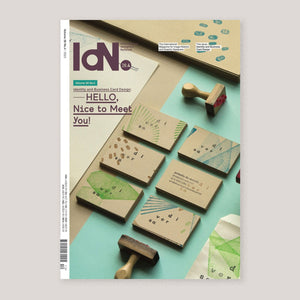 ---