Magazine
Hop & Barley Vol.10
Regular price
£10.00
Sale price
£1.00
Like the brewing industry it champions, the new Hop and Barley has undergone a thorough evolution for its new volume. Issue #10 has been completely rethought design-wise and comes in a brand new size which we think suits it very well.
This issue finds itself wandering the Lanes of Brighton, sampling brews and food from the taprooms, bars and pubs of this sparkling coastal town, there's even a handy map of 19 selected destinations to take a look at. Elsewhere there are articles on Brighton's vibrant brewing and LBTQ scenes, the beer, camaraderie and endurance of the UTMBeers ultra running club, the excellent and acclaimed beers of the Burning Sky Brewery and the new British wines (yes, wines!) coming straight out of East Sussex.
Expect:
The product of two graphic designers and a food scientist, Hop and Barley is both great to read and easy on the eye. Great photography, clean design, and with a passion for all aspects of the craft movement in every word of its copy.
Highlight:
Glad to see H&B still stopping to focus on the design side of beer, with a great article on Brighton-based Studio Makgill - the brains behind the Wiper and True brand identity

Share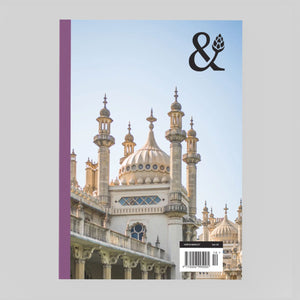 ---